I'm so proud of the dedication, dependability, experience, professionalism and down-right animal loving-ness of our team in South London.
I'm Victoria and I set up Love Cats in 2009 and several of the team below joined me soon after that – thank goodness they did!
I've had so many comments, time and again, our brilliant cat sitters have gone above and beyond the expected and given so much more to ensure that your cat is safe and happy. And why? Because they love their job and they love cats!
You'll meet your assigned sitter at the point of registration and from that time forward they will be your regular pet sitter, getting to know your cat (or other furry creatures) better and better each time they visit. We've had incredibly shy cats develop over time from hiding under the bed to welcoming our sitters and sitting on their knees. Such a great feeling.
If for any reason your regular sitter can't make the visits, we have plenty of local back-up and the sitter covering the visits will meet you and/or your pet beforehand – if it can be avoided, we will never send in someone who hasn't met your pet in person. All Love Cats pet sitters are DBS checked and fully insured.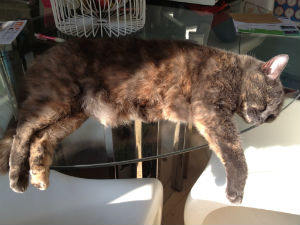 Having grown up in the countryside with a wide range of animals from large horses to goldfish, several dogs and of course cats, I now live in Balham with just the one cat, Chi (that's her in the photo above) … and three other animals (my husband Jack and our two boys).
Areas covered: Balham, Streatham, Clapham, Tooting, Brixton, West Norwood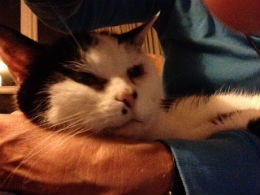 I have lived in south west London for over 30 years. I have owned four cats in my life. The first two were brother and sister, and were with me for their whole lives. The next two were 10 year old sisters, who came to me from battersea dogs and cats home where I regularly volunteer. They spent their later years with me. Now I love to spend as much time with my love-cats felines as possible.
Areas covered: Balham Streatham, Clapham, Tulse Hill, Brixton, West Norwood, Upper Norwood, Stockwelll, Norbury, Paxton Green, Gipsy Hill
I have lived in Clapham for 30 years and work in Balham at a local school for the past 11 years. I absolutely love cats and I'm the proud cat mummy of two beautiful boys Tiger and Bandit
What do they say ?? Never work with children or animals well I couldn't be more in my happy place when working with either. It would be my pleasure and privilege to look after your cats and I can truly say that I would care for them as if they were my own.
Areas covered: Balham, Clapham
As a child, I wanted to be a cat, as a teenager, I had pictures of cats on my wall instead of pop stars. I JUST ADORE CATS and I would like to adore your cats as well. I am an adult tutor, I live in East Dulwich and have done so for most of my life. I have a car and can be very flexible with my hours as I only work part-time. I look forward to the pleasure of meeting you and, more importantly, your Moggy!
Areas covered: East Dulwich, West Dulwich, Herne Hill, Dog Kennel Hill, Nunhead, Peckham, Camberwell, Gipsy Hill, Forest Hill, Brockley
I grew up on a farm so looked after multiple pets as a child including cats, dogs, chickens, ducks, horses, goats and even a pet pig! I have lived in south London for over 25 years and now have a feisty rescue cat and a neurotic border collie as pets who are totally spoilt by the whole family! I regularly cat sit for neighbours and love spending time with their cats for a chat/play/cuddle. I'm also happy to water plants, open and close curtains and take in post so your house is looked after whilst you're away.
Areas covered: Streatham Common, Streatham Hill, West Norwood
Beki
Hi, I am Beki, furmummy to Frankie and Bibi! I have grown up with rescue animals and truly believe we are not deserving of these magnificent creatures! After 19 years in banking I am now dedicated to spending my time looking after your pets and making sure they have a great time too whilst you are away!
Areas covered : Mitcham, Norbury and Streatham
I work part time and have been enjoying regular cat sitting in my spare time for over a year now. One of my oldest cat clients is approaching the grand old age of 21! I also just completed 5 months of volunteering as a Cattery Support Volunteer at Battersea Cats Home, which was lots of fun and provided me with some great experience. I have owned cats all of my life and have a lot of experience in cat care. Currently I have two lovely black cats at home, Byron (3) and Dee Dee (6).
Areas covered: Streatham Common, Streatham Vale, Furzedown, Mitcham, Norbury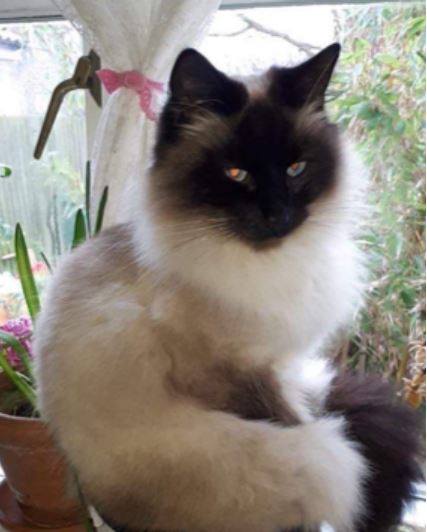 Hiya, I am Najwa and I have been working with Love Cats for over a year. I have always grown up with cats! I currently have 3, Mela (Auntie), Maolino and Senshi (Nephews). I have completed my Zoology degree with the intent to pursue my passion for animal welfare and conservation and I'm really getting my feline fix from looking after our lovely Love Cats clients.
Areas covered: Streatham Common, Streatham Vale, Mitcham, Norbury
I am Michelle. I have worked for Love Cats for nearly three years now and I have loved every single minute that I spend with my new fur-ball friends. They become an extended part of my own fur-ball family – I now have four of the beauties …. and have been told that I am not allowed anymore which is why I love looking after other people's babies when they go away.
Areas covered: Selsden, Addington, Shirley, Sanderstead, South Croydon, West Wickham, Purley, Selhurst, South Norwood
Hi, my name is Kristy. I'm originally from South Africa (Durban) but have lived in London for almost 10 years with my lovely family – we live in Wimbledon Chase and I absolutely love cats. I  am a regular, trusted cat sitter for my neighbour and close friends in the area and one who will always stop for a 'pat and a chat' with pets as I'm going about my exercise around the neighbourhood. If you need a reliable and caring local cat-sitter, I'm happy to look after your feline friends. in the Wimbledon, Wimbledon Chase, Raynes Park and West Barnes areas so  please do get in touch
Areas covered: Wimbledon, Wimbledon Chase, Raynes Park, West Barnes, Morden, Colliers Wood
Nichola
I grew up in Belfast in a very large family with numerous pets over the years which included dogs, cats, tortoises and gold fish, I now live a much quieter life in London with one son and one cat and I really enjoy looking after all the lovely local cats!
Areas covered : Tulse Hill, West Norwood, Dulwich, Brixton and Clapham
Jackie
I was born in Roehampton & moved to Earlsfield in 1994. I have been 'mum' to Minnie The Moocher for 8 years & have to say, she is a proper little diva! I just wish she could talk as she is so entertaining.
I took early retirement almost 3 years ago after 36 years in banking.
The joy of meeting & taking great care of your precious pussy cats is something I am really looking forward to. Rest assured, your cat will be well loved by me.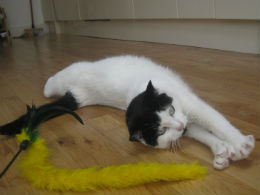 I have lived in Balham all my life and have always shared it with cats and dogs. Now my own children are grown up, I work with children and animals every day and I can thoroughly say that I love my work!
Areas covered: Balham, Streatham, Clapham, Furzedown, Tooting, Brixton
My name is Claire. I am 52 years old and live in West Dulwich. I am kind hearted, extremely reliable and take pride in everything i do. I have been a Cat Mummy for most of my adult life. I lost my last cat to old age, she was nearly 21. I know leaving your cat is difficult, i will make sure your baby is well looked after in your absence.
Areas covered: West Dulwich, Crystal Palace, Upper Norwood, Dulwich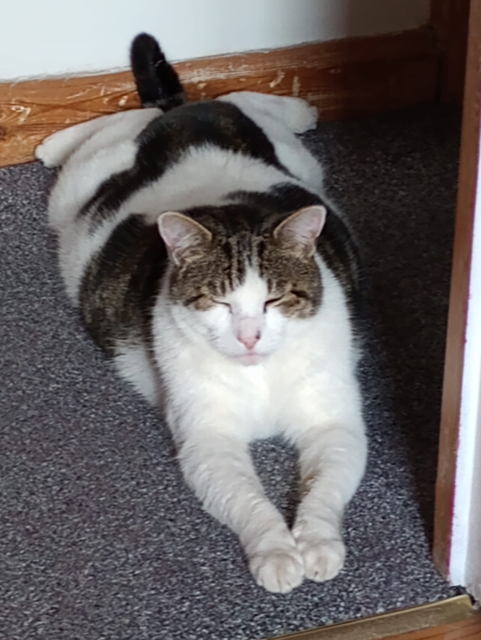 I've been based in Wandsworth these last 17 years and in London since the early 1990s. Over the years I've looked after cats in different parts of the UK, in Spain, France, Sweden and Denmark (particularly older cats), as well as being "cat mummy" to several lovely kitties at home in southwest London. I'm a writer, working from home (and have written three books about cats), so I have a very flexible schedule and love spending time with cats.
Areas covered: Wandsworth, Clapham, Putney, Battersea and areas easily reached by train from Clapham Junction
Zuzana
Having grown up in the countryside with several dogs and cats, I now live in London Gipsy Hill with my husband. I have retired after a whole life running my own company and am missing the contact with animals, especially cats. I'm so happy to be looking after your feline friends.
Areas covered : Crystal Palace, Gipsy Hill, West Dulwich and Sydenham areas
I grew up in Northern Canada, surrounded by cats and dogs. I've spent the last 40+ years living in South London, bringing up my daughter in a house full of cats, dogs and many, many pet rats! Now I live in my own so I get my cuddles from your cats instead.
Areas covered: Balham, Streatham, Clapham, Furzedown, Tooting, Brixton, West Norwood
Zoe
Hello – I'm Zoe. I've always had a love for all animals and I know first hand that they truly become a huge part of your life. I've looked after pets for family and friends for years, that led me to the Love Cats team. I'm having such a great time getting to know all my lovely cat clients and learning their individual needs and personalities.
Areas covered : Tooting Bec, Tooting, Furzedown, Streatham Park
Rachael
I am 56 yrs old born in Hampshire grew up on a farm with all animals from ducks pigs & rabbits to cats & kittens playing in the hay in the barn . I now live in beautiful Putney I have 3 cats of my own a dog 7 lovebirds 2 fish tanks & dream of having ducks . I love all animals & everyone is special & they never forget you or your kindness . I take my job extremely seriously & treat every animal I look after as if it were mine ❤️
Areas covered: Putney 
I was brought up on a farm in Devon with six cats (!) but I now live in the appropriately named CATford with my gorgeous George, who strolled into the house with me one evening and never left. A check with the vet showed he was unchipped and after a "chip & snip", he became our new owner. Unfortunately, his position as Chief Rodent Officer is in doubt as he brings in more live mice than he takes out.
I'm a retired teacher and now, with more free time, I love the idea of making new feline friends.
Areas covered: Catford, Sydenham, Beckenham, Penge, Crystal Palace, Forest Hill, East Dulwich, Hither Green, Nunhead, Lee, Blackheath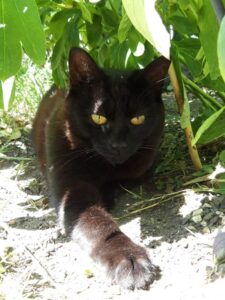 Fleur
I am Fleur and the proud owner of an 11 year old cat named Mia.
I live in Southfields and I'm loving looking after my Love Cats clients in my area. It's a great feeling when an initially timid cat starts to warm to you.
Areas covered : Southfields, Earlsfield, Wimbledon Park
My name is Tracey and I've lived in SW London for the past 30 years. I've always had cats in my life. We had cats at home while I was growing up and then when I left home the first thing I did was visit Battersea Dog and Cat home. Mostly I've had rescue cats but 7 years ago I got a kitten for the first time and Poppy is utterly adorable. I can't imagine a life without them. They are so intelligent, independent and loving and they definitely have a sixth sense. I'd be delighted to care for your cats.
Areas covered: Southfields, Earlsfield, Wimbledon,Wandsworth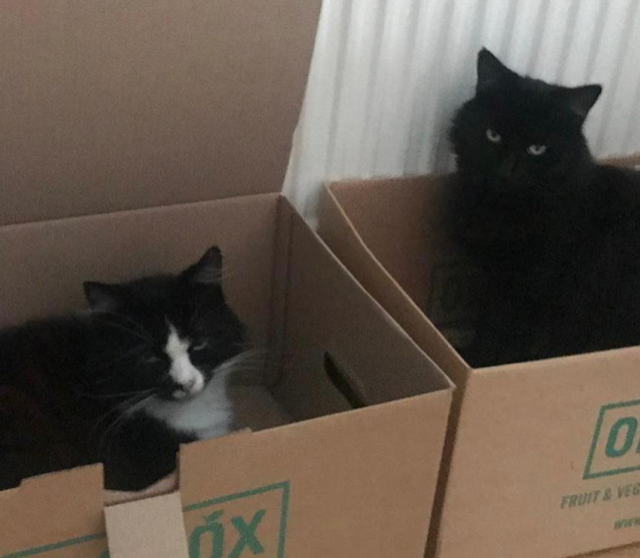 Hi my name is Emily.
I'm based in Colliers Wood and I love cats!
I have 2 cats called Billy and Coco who were strays and decided to come and live with me and my husband Scott 6 years ago.
As well as cat sitting I work as a reflexology therapist locally.
Areas covered: Colliers Wood, Tooting, Earlsfield, South Wimbledon